Chapter 05 - Land is family
The wine heritage of the Marchesi Alfieri
Historic vineyards alternating with younger plantings, covering a total of 20 hectares of vineyards, spread over 3 different hills that have always been part of the lands of the Alfieri di Sostegno family.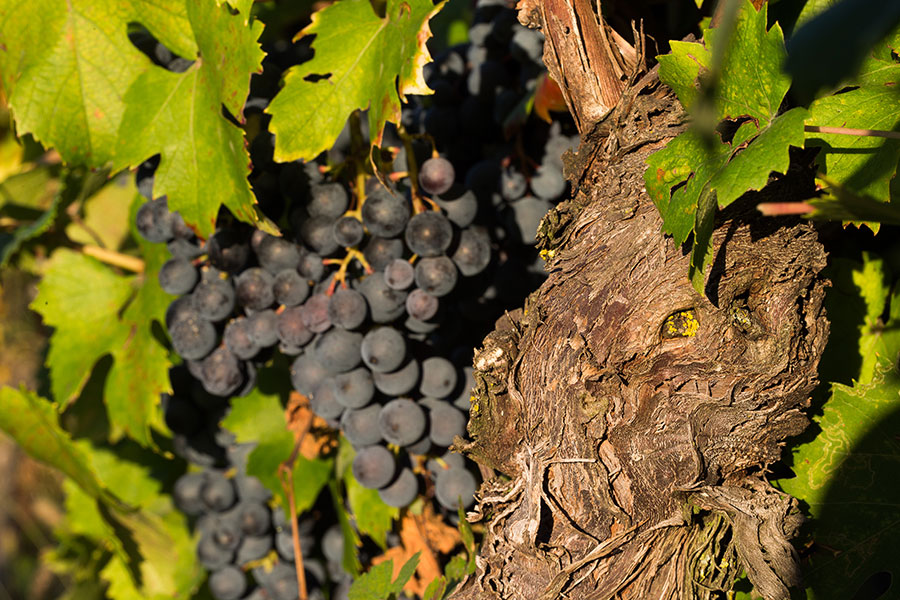 Sansoero
The name derives from a votive chapel dedicated to San Saverio which stood on the hill. It is the oldest vineyard of the estate: the first Pinot Noir plantings have a hundred-year history!
The soil of Sansoero is rich in clay and red sand, which turns white towards the west. A curiosity? Pinot Noir, a variety originally from Burgundy, arrived on the hills of San Martino Alfieri thanks to the niece of Camillo Benso di Cavour, Giuseppina, wife of Carlo Alfieri di Sostegno.
In Sansoero, Nebbiolo, Barbera, Grignolino and Pinot Noir are grown.
Quaglia
The soil of the Quaglia hill is characterized not only by a perfect mix of sands, clay and silt, but also by high percentages of sodium, potassium and calcium, which help the vine to develop clusters with thicker and more resistant skins.
The southern slope of the hill is suited to the cultivation of Barbera, which forms the base for Barbera d'Asti DOCG La Tota, Barbera d'Asti Superiore DOCG Alfiera and Terre Alfieri Nebbiolo DOCG Costa Quaglia.
To the north, we find Pinot Noir, used to produce Piemonte Pinot Nero DOC San Germano, Metodo Classico Extra Brut Millesimato Blanc de Noir and Piemonte DOC Barbera Pinot Nero Sostegno.
Calandrina
The Calandrina hill is entirely devoted to the cultivation of Barbera. With east and north-east exposures, it is comprised of white sands and clays and has a gentler slope compared to Quaglia enabling a later, slower and consistent ripening of the grapes.
The Barbera grapes from Calandrina are used in the blend for La Tota Barbera d'Asti DOCG, "La Tota" being the nickname for Adele Alfieri di Sostegno, daughter of Carlo Alfieri and Giuseppina Benso di Cavour, who was loved by the residents of San Martino for her generosity.
Vigna del Castello
The closest vineyard to the residence. Reachable on foot through the park, the ground is characterized by its white soil, rich in sand and limestone. This, together with its west-facing exposure, makes it a perfect slope for the cultivation of Barbera which is used in the blend for La Tota.
Our "low intervention" viticulture
"Balance" means not forcing the hand of nature, but guiding it in a direction in which it can best express itself.
This translates into low-impact phytosanitary treatments and sustainable agronomic practices.
Working by "subtraction" means intervening only when necessary, reducing the number of treatments to the essential, avoiding the use of heavy vehicles and resorting to mechanical weeding. Subtracting also means selecting the quality directly in the vineyard: since the 1990s, when many farmers still thought it was a useless practice, we carry out green harvesting (selective thinning of the bunches) in order to reduce the quantity and concentrate, without forcing, the highest quality in every bunch.